------------------------------------------------
KIRIBAN at 44,444So I decided not to wait till 50,000. Next Kiriban at 44,444 or the closest (44,445 onwards). Send me a screengrab of the 44,444 page view & get a free single character commission of your choice plus a 100 deviant points from me.
-------------------------------------------------
I know I posted this in

group, but I thought I'd echo it here as well...
Issue 3: Fond MemoriesThe Beast Legion: Issue 3 is now available in print Here

The Online version will be available sometime between the 10th & 15th of July over at www.thebeastlegion.com

Story & Art by



Cover by:



Special pin-up:

Seven years pass after the Shadow Nexus' invasion of Lithopia....But the adventure has just begun for Prince Xeus . Haunted by the memories of the past, a now teenage Xeus embarks on a solo quest of self discovery & encounters a setback that brings back past memories.



Don't miss out on this issue. You can also check out past issues online at www.thebeastlegion.com(currently undergoing maintainence)



Thank you, Everyone

OK, First of all before I go into anything else I first want to thank everyone one of you guys who has taken time out of your schedules to check out, appreciate & Support my independent manga, The Beast Legion. I thank you from the bottom of my heart & I hope you enjoy every bit of it. And here's a little something I did to return the favour. Today the site reached 400 unique views.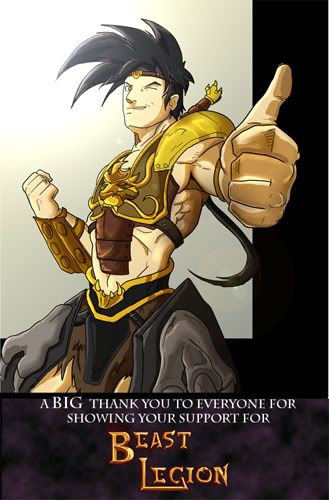 -----------------------------------------------------------------------------------

Site Overhaul

As some of you may have already noticed, the site www.thebeastlegion.com is undergoing an overhaul. Apparently the intial wix site, although had a great user interface & look had several features restricted & I didn't want that. So We are shifting to regular HTML. We're working our best to get it back on as soon as possible & trust me once it's started you'll have access to updated character bios,latest issues, new pics every weeks & most importantly....A Forum dedicated specially to the Beast Legion fan community across the net. And ofourse the online version of the manga will be posted for reading as well. So stay tuned.


------------------------------------------------------------------

Suggestions & request

I can understand that there's not really much going in the group apart from the promotion of the manga. Trust me when I say I'm doing all I can to make this a successful attempt but between work, creating the comic, commissions things can get pretty messy. So I would like to ask you guys what you'd want to expect from this group in the future? Apart from that I would love to see some Beast Legion fan art in the Fan art gallery guys. Maybe we could have a monthly contest where the or something where we pick two works each month & feature them on the Beast Legion site & in this group? I would love to do that if we have enough fan art.

Plus I'm planning to host a huge contest sometime in August-September when Issue 4 (which will be a double sized issue) will be out. So stay tuned & please spread the word about the manga & the group .

Your Support means alot to me!!